Everything is Illuminated by Jonathan Safran Foer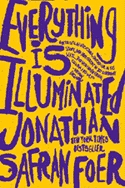 When this book was first published, it was available in 10 neon-coloured covers. A different coloured cover was featured with each reprinting. That is just one of the several gimmicks featured in Jonathan Safran Foer's clever little debut.
The story is about a young American (in this case, the author himself though it is not told in first person) who goes to Ukraine to trace a woman whom he believes saved his grandfather from the Nazis. In his quest, he is aided by the memorable Alex, Alex's grandfather and their dog ("seeing-eye bitch") Sammy Davis Jr. Jr. Alex is the same age as Jonathan and is keen to impress him with his command of the English language. His letters to Jonathan where he recounts their adventure (in retrospect) form the best part of the book. Hilarious!
The narrative alternates between Alex's letters and events featuring Jonathan's ancestors from his great-great-great-great grandmother all the way down the Nazi decimation of the ancestral village. The final chapters are often moving and the humour never takes away from the horrors of Second World War.
About the style, Jonathan Safran Foer is a master of the language. And he plays with it much like how a potter would mould clay. Bringing words and phrases alive with wit and imagination. In one of the final chapters, there's one unpunctuated sentence which stretches across three pages so you feel the breathlessness of the rant. In another part, nearly two pages are filled with the words 'we are writing...' and you willingly indulge the author. He breaks all the rules and invites the reader to join him in this new game.
I was loathe to put this book down. It was an all-consuming read. Effortlessly, extraordinarily brilliant.