Lucia Lucia by Adriana Trigiani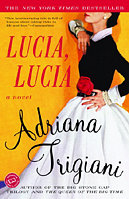 Lucia Lucia is the story of Lucia Sartori, an Italian-American living in the '50s in New York's Greenwich village. The story is told in flashback as Lucia recounts two tumultous years from her youth when she gets engaged twice and breaks off one of them, gets jilted at the altar, suffers bereavements, is made redundant due to obsolescence and grows up from the cosy comforts of being an only daughter, the youngest sister to four brothers in a close-knit family to her own woman. She also goes through much conflict when she tries to reconcile her two diametrically-opposite roles - one as an ambitious career woman working in one of New York's fashionable department stores and the other, a more traditional role of being a wife who gives up her career to stay at home. How she resolves her conflict or to be more precise, how the conflict gets resolved forms the rest of the 300-odd page narrative.
There's plenty of cliches - the close-knit Italian family, protective brothers, lavish weddings, innocent sister-in-law and so on. The situations often seemed forced. Like when Lucia's brother blurts out about a curse uttered many years ago at the family dinner table. It seemed such an unnatural construct. Something put there so that the reader may 'know'.
Neither the eponymous character nor any of the other people who populate this novel endear themselves. It was a quick read, mercifully. So I didn't have to wince for long. If you're in New York or have lived in the city, this book may give you insights into life in the city from the '50s. As for the rest of us, why bother?